The first webinar between colleagues of the National Institute of Oceanography (CSIR – Council of Scientific and Industrial Research) and the National Scientific Center of Marine Biology FEB RAS was held on Thursday, 2nd July, 2020.
The initiative was from to Dr. Shishir Shrotriya, who works in Embassy of The Republic of India in Moscow. Participants from Indian side became scientists: Dr. Cathrine Sumathi Manohar, Dr. Mandar Nanajkar, Dr. Maria-Judith B.D. Gonsalves, Dr. Punyasloke Bhaduri, Dr. B Manikandan, Dr. Mangesh Uttam Gauns, Dr. Soniya Sukumaran. From Russian side: acting director – Dr. Lutaenko K.A., Dr. MalyutinaM.V., Dr. Kartavtsev Yu.F., Dr. Radashevskiy V.I., Dr. Trebukhova Yu. A., Dr. Zograf J.K., and Dr. Skriptsova A.V. Dr. Mangesh Uttam Gauns has represented information about their institute as a presentation. National Institute of Oceanography was founded on 1 January 1966 as one of 37 constituent laboratories of the CSIR. This institute is an autonomous research organization in India, which undertakes scientific research and studies of special oceanographic features of the Northern Indian Ocean. 388 staff members work in NIO. Headquartered in Goa, it has regional centers in Kochi, Mumbai and Vishakhpanam.
The mission of NIO "to continuously improve our understanding of the seas around us and translate this knowledge to benefit all"
With the prior agreement online-conference was conducted at 2:30 p.m., in the room for negotiations and seminars. Online-seminar was included the acquaintance with Russian and Indian sides, from the each side were 8 people. Indian colleagues have told about their interest in the such areas of marine biology as: marine microbial ecology, marine biotechnology, biodiversity, eukaryote diversity in oxygen limited waters of Arabian Sea, plankton ecology and biology of the Arabian sea and Bay of Bengal, microzooplankton taxonomy, marine biology and pollution, benthic ecology, biocomplexity and health of coastal ecosystems, coral reef ecology, restoration of coral reef ecosystems. Afterwards, Dr. Konstantin Lutaenko told a shot brief (history, structure, work international cooperation) about the NSCMB FEB RAS. During this discussion the scientists have been discussing the possibility of joint researches of biodiversity in the World Ocean. An active participation in webinar had: Dr. Lutaenko K.A., Malyutina M.V., Dr. V.I. Radashevskiy and Yu. F. Kartavtsev.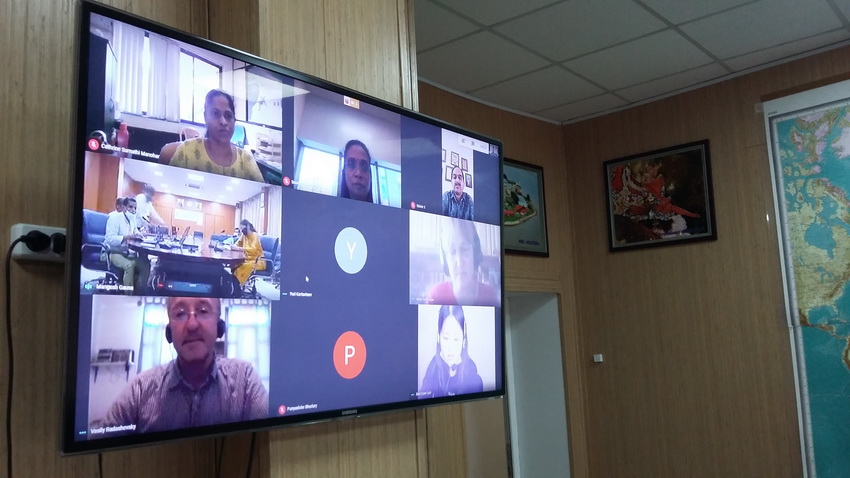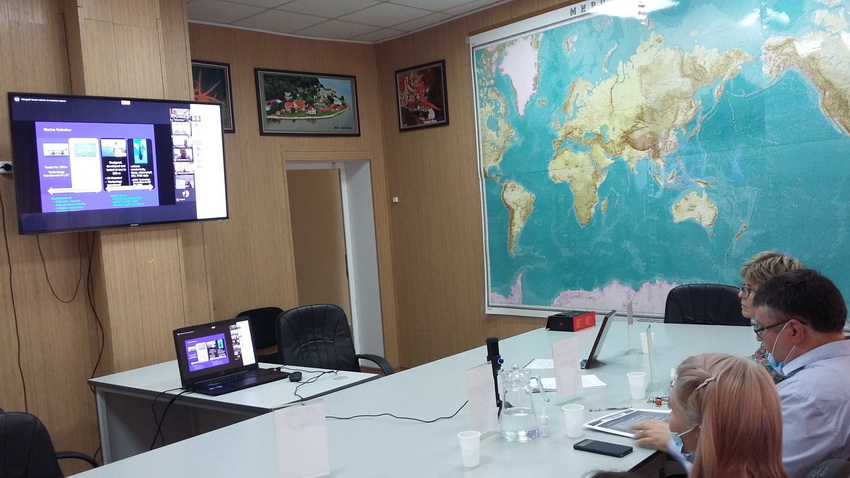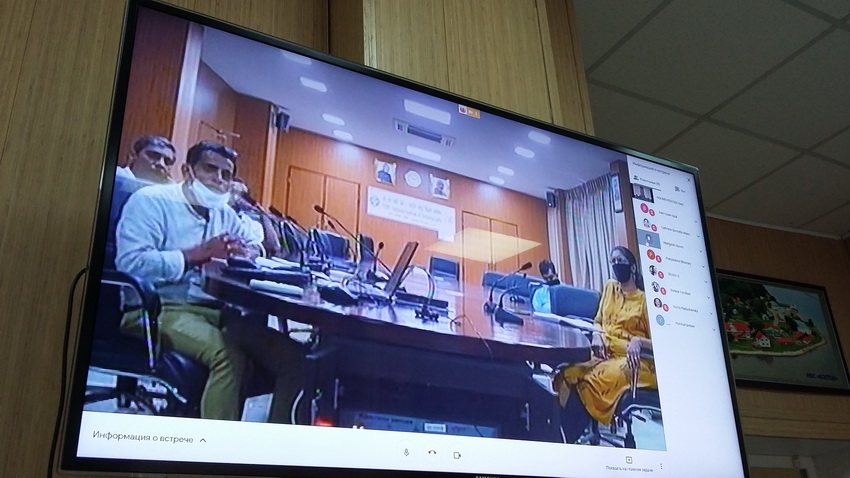 Both sides have agreed to conduct the next online-conference as a scientific session in July. Conducting webinar has become a new experience for the International Cooperation Department in the NSCMB FEB RAS. V.R. Tsoy and Dr. Serkov V.M. took a participation in the preparation of webinar.
---
International Cooperation Department of
A.V. Zhirmunsky National Scientific Center of Marine Biology
Far Eastern Branch of the Russian Academy of Sciences